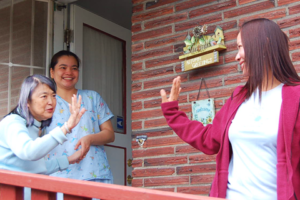 As caregivers provide round-the-clock day and night assistance for a loved one, there is little or no time to care for themselves anymore. When their burden has become stressful for them and the risk for burnout is high, what they need is respite. This gives exhausted caregivers a break from their caregiving duties so they can also care for themselves.
How Home Care Services Can Help
A home care agency provides a qualified caregiver to step into the caregiver's shoes so they can take care of themselves for a short while. Respite care goes a long way toward relieving caregiver exhaustion.
Home care services give caregivers the help they need by providing an experienced and trained temporary replacement to relieve them of their duties so they feel ready to resume their caregiving duties confidently. It can be a huge help to know that someone else is available to take over caregiving duties a few times per week.
How to Find Respite Care
In a perfect world, it would be easy to find someone to step into a caregiver's duties for a short while, but that isn't often the case. When no one is available to help, where does a caregiver turn? A local home care agency with a solid reputation can be a lifeline for burned-out caregivers.
Love Thy Neighbor Home Care is a local home care agency that offers quality respite caregivers to give you a much-needed break. With our compassionate and well-trained respite caregivers on duty, you can rest assured that your loved one is taken care of in your absence for however long you need a break.
Does a short break sound like just what you need? If so, contact us at 678-892-9118 and speak with us about how we can meet your needs.