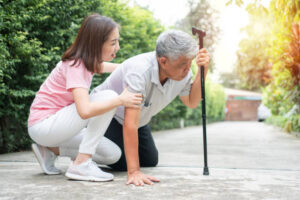 Seniors are more likely to suffer from falls than younger adults and this could be due to a number of risk factors that are more common among elderly adults, including:
• Loss or decreased strength
• Poor balance and coordination
• Limited mobility
• Visual Disturbances
• Loss of Hearing
• Joint pain and inflammation
In many cases, serious injuries can occur and may have life-altering side effects. The great news is that majority of falls can be prevented. The most common location for slips falls and trips is at home. This means that such incidents can be prevented by taking precautions at home.
Love Thy Neighbor Home Care Services is strongly committed to the prevention of fall incidents and this extends to our home care services. Our caregivers can help avoid your loved one's risk of falls in a number of ways.
With our care program that includes companionship, light housekeeping, personal care, and assistance we can help your loved one maintain a safe and tidy home, and help with day-to-day tasks that may increase the risk of falls. If your loved one's physical health puts them at high risk for falls, our personal care services can help with activities such as dressing, bathing, and mobility.
Learn more about us and what we can do for your elderly loved ones! Let one of our experienced and compassionate caregivers help you!