Intergenerational caregiving is the practice of bringing together children and the elderly for mutual benefit. And the list of benefits is impressive: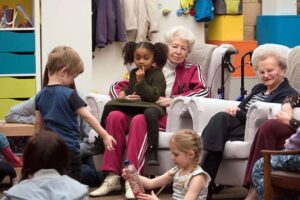 • Improved memory and physical ability for elderly
• Decreased depression and anxiety for both adult and child
• Decreased behavioral issues in children
• Improved social development in children
• Improved self-esteem for both adult and child
Whether the elderly adult is a grandparent, a close relative, or simply a member of one's community, it's easy to see that intergenerational caregiving provides positive benefits to both the older adult and the child.
If you have a senior loved one who is in need of light assistance around the home, they may benefit tremendously from the company and the purpose caring for a child can bring. In some situations, though, your senior may need the help of an adult. A home health aide from Love Thy Neighbor Home Care Services can provide high-quality, personalized care either on a full-time or part-time basis.
Love Thy Neighbor Home Care Services is a comprehensive home care agency licensed by the Georgia Department of Community Health that provides in-home healthcare services. We understand the many challenges and risk faced by the aging and elderly and are dedicated to providing care to support them through all of those ups and down.
Call us now at 678-892-9118 and speak with us about how we can meet your needs