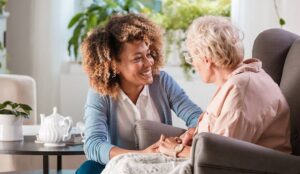 Dementia is a difficult condition to live with, but it also affects caregivers. Caring for patients with dementia leaves many caregivers overwhelmed and exhausted. Hard to understand and often invisible to the eye, dementia makes it hard to determine whether care is effective. But, if you practice healthy dementia care, you can reduce or overcome the intrinsic challenges and provide necessary care to the patient.
Here are Tips for Healthy Dementia Care:
Use Smart Communication. Communicating with dementia patients require simple, straightforward methods. Use easy-to-understand words and suggestion, and don't overload your loved with a string of questions or command.
Play Music. Music has profound effect on many people with dementia, particularly if that music is familiar. Music can soothe agitation, improve mood, and reduce stress. Even people with advanced Alzheimer's have responded to music therapy.
Practice self-Care. Although people with dementia are not deliberately trying to test your patience, they often end up doing so. Caring for a person with dementia requires patience, compassion, and energy.
Get Help from Professional Caregivers. Caring for a person with dementia is challenging, but it does not need to be overwhelming. Keeping a few of the above tips in mind can help you face the task with confidence and help you provide the support, and quality care your loved one needs.
At Love Thy Neighbor Home Care we could provide direction as to how to manage the total care of your senior loved one.
Love Thy Neighbor Home Care Services is a comprehensive home care agency licensed by the Georgia Department of Community Health. Contact us today to see how our dedicated caregivers can give the highest standard of care to assure the best possible outcome for your loved one. Call us now at 678-892-9118 and speak with us about how we can meet your needs.