We all dream of aging like good wine, getting better and better as the years progress. And we all know that this dream is rarely realized: growing old comes with its fair share of losses andchallenges. Memory loss accelerates, the digestive function becomes more aches and pain seem to spring out of nowhere and moods may be less predictable.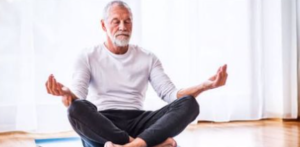 Research has clearly shown that regular meditation comes with a wide range of physical, mental and emotional health benefitsshould particularly interest seniors.
Here are some benefits of meditation for seniors:
1. Slowing down the progression of Alzheimer's
Estimated that up to 50% of all people over 85 have some form of dementia. Dementia destroys memory, disrupts crucial mental functions and emotions. However, a recent study showed that combination of meditation and breathing exercises can help slow down the development of dementia-related diseases.
2. Enhancing digestion
Our digestive functions can be affected by a variety of factors, including diet and age. Luckily, it seems that mediation can improve digestion.
3 Managing moods and emotions
Managing moods and emotions is a challenge for most of us, regardless of our age.Meditation, with its focus on non-judgmental presence, teaches us that we ca observe our emotions without being compelled to react to them.
4. Improving memory
Mediation stimulates the memory centers within the brain . And since memory loss is one of the undesired "side effects" of aging, improved memory and cognitive function are precious allies as we grow older
5. Promoting relaxation and calmness
Mindfulness for seniors has a calming effect that can't be achieved by prescription drugs. Meditation helps the elderly relax, organize thoughts more efficiently, and maintain a clear perspective.
In conclusion, mindfulness meditation takes us on a path of slowing down the progression of Alzheimer's, enhancing digestion, managing moods and emotions, improving memory and promoting relaxation and calmness.
Love Thy Neighbor Home Care Services is a comprehensive home care agency licensed by the Georgia Department of Community Health provide direction as to how to manage the total care of your senior loved one. Call us now at 678-892-9118 and speak with us about how we can meet your needs.