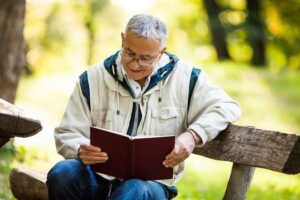 As we age, it's important to make sure we stay intentional with the activities that help exercise our brain. There are variety of activities that help improve your mental well-being as well as boost your mood. One of the best activities for exercising your brain is reading.
Let's take a look at four ways that reading can help seniors:
Improves Memory Retention
As we age, memory declines due to a number of different factors. Hormones and proteins that maintain and repair brain cells, as well as those that encourage neural development, drop as people
become older. Reading exercise your memory,which is important for short-term recall in everyday situations. Reading is a mental enrichment activity that can help strengthen the brain and help with memory retention and learning.
Helps With Decision-Making Skills
Reading can help seniors strengthen their analytical and reasoning skills, which in turn helps sharpen decision-making skills. Reading can improve working memory ans, as a result, sharpen our ability to make good decisions quickly.
Improves Sleep
As we age, it becomes increasingly harder to fall asleep and stay asleep. Reading in bed is one of the best ways to fall asleep. Watching TV is not a great way to fall asleep as it has been found to actually have the opposite effect. Whereas, creating a ritual such as reading is a great way to signal to your body that it is time to fall asleep.
Reduce Anxiety
Reading has been proven to reduce anxiety and stress. Reading can also help reduce your heart rate and muscle tension. Thus , in turn, can reduce the feelings and stress that you may be feeling. Losing yourself in a book is a great way to lose your troubles and your anxieties, if only for a short while.
No matter your age or needs, adding a small dose of reading to your daily routine could be just what you need.
Love Thy Neighbor Home Care Services is a comprehensive home care agency licensed by the Georgia Department of Community Health provide in home healthcare services and direction as to how to manage the total care of your senior loved one. Call us now at 678-892-9118 and speak with us about how we can meet your needs.