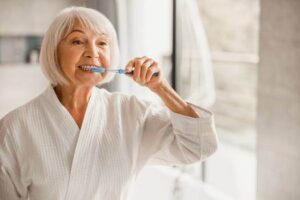 Seniors and their loved ones are dealing with the significant health challenges of aging. Unfortunately, oral health can slip to the bottom of the list of concerns. But a healthy mouth is more than just a cosmetic concern. Poor oral health can seriously impact how happy people are.
According to a study published in Community Dental Health, poor oral health in the elderly is associated with a lower quality of life. In the study, people with the worst oral health experienced lowered morale, greater amounts of life stress, and decreased satisfaction with their lives
Here are some tips for elderly oral hygiene:
Provide reminders and support: If memory loss is a problem, your loved one may simply forget to brush their teeth or floss. People with arthritis or other mobility problems may not have the dexterity to effectively maneuver a toothbrush or floss. In-home care providers can help with these tasks, either by reminding your loved one or doing the brushing or flossing for them.
See a dentist who specializes in elder care: Seniors often have health issues that are less common in the general population. A dentist who is trained in caring for seniors will be better prepared to navigate issues such as medication interactions and complications
Pay attention to nutrition: One of the problems seniors encounter when they have issues with their teeth is that it can be painful to chew. This can lead to them avoiding eating, causing malnutrition
Dentures need attention too: The bacteria that cause gum infections can easily hide under dentures too. Partial dental devices and dentures need regular, careful cleaning. This is something a home care assistant can help with also.
Love Thy Neighbor Home Care Services is a comprehensive home care agency licensed by the Georgia Department of Community Health. Contact us today to see how our dedicated caregivers provide personalized care for your loved one. Call us now at 678-892-9118 and speak with us about how we can meet your needs.