B vitamins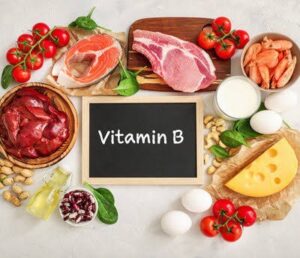 play a vital role in maintaining good health and well-being. As the building blocks of a healthy body, B vitamins have a direct impact on your energy levels, brain function, and cell metabolism.
Vitamin B complex may help prevent infections and help support or promote:
• Cell health
• Growth of red blood cells
• Energy levels
• Brain function
• Hormones and cholesterol production
• Cardiovascular health
• Muscle tone
Older adults and those who are pregnant may require higher amounts of B vitamins. Your doctor can provide dosage information tailored to your individual needs.
Most people get enough B vitamins by eating a balanced diet. However, it's still possible to be deficient, especially if you have been taking certain medications for a while, such as a proton pump inhibitors, or if you follow a very strict vegan or vegetarian diet.
Lots of foods contain B vitamins, making it easy to get enough from your diet. It's best to get your B vitamins from a wide variety of food sources. This helps ensure you're getting enough of each type.
You can find vitamin B in:
• Milk
• Cheese
• Eggs
• Liver and kidney
• Meat, such as chicken and red meat
• Fish, such as tuna, mackerel and salmon
• Dark green vegetables
If the above information about the benefits of vitamin B has been useful, check out Love Thy Neighbor Home Care Services blog for more articles about senior care
Love Thy Neighbor Home Care Services is a comprehensive home care agency licensed by the Georgia Department of Community Health. Contact us today to see how our dedicated caregivers can help your loved one enjoy meals rich in B vitamins at home with the confidence provided by expert-level care. Call us now at 678-892-9118 and speak with us about how we can meet your needs.