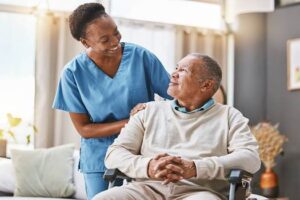 Compassionate care behavior requires understanding others' values, establishing relationships with them, and responding to them in meaningful ways.
The season of love and giving has commenced and people everywhere are looking for ways to join in the self-sacrificing spirit
Are you responsible for caring for your elderly parent? Caring for a loved one isn't easy, and the demands of being a caregiver can be very stressful, especially if you've got a demanding job.
Professional caregivers can help take the weight off your shoulders. Here are some advantages of having an in-home caregiver for your loved one:
You'll Have Time for Yourself: Wanting a bit of time alone isn't selfish, and there's nothing wrong with wanting to relax. Self-care helps you handle the stresses of daily life. When an in-home caregiver is looking after your elderly parent, you can do something for yourself, like take a nap or go to the gym.
You Can Focus on Your Career: Are your caregiving responsibilities affecting your career? With the help of an in-home caregiver, you can continue to provide for your family, while still advancing in your career.
You Can Improve Your Mood: The stress of being your parent's sole caregiver can take a major toll on your mood. You may start feeling depressed, anxious, exhausted or angry due to your responsibilities.
With the help of an in-home caregiver, you can get the rest you need to improve your mood. Taking a break is one of the best ways to feel better
You'll Know Your Parent is Getting Good Care: Professional caregivers receive extensive training and have prior experience working with seniors: You can trust that your parent is getting the best possible care and move through your day with peace of mind
Love Thy Neighbor Home Care Services remains committed to providing personalized care for your loved one. We are a comprehensive home care agency licensed by the Georgia Department of Community Health that provides in home healthcare services. Contact us today to see how our compassionate and dedicated caregivers can give the highest standard of care to assure the best possible outcome for your loved one. Call us now at 678-892-9118 and speak with us about how we can meet your needs