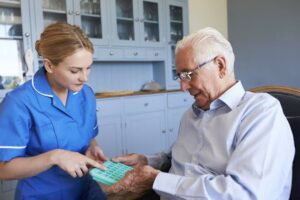 Most nurses can attest to the frustration felt when going through a medication reconciliation with an elderly patient. Oftentimes the elderly patient will come to the ER with a pill box and no idea of what medications it contains. They may simply be able to recognize certain pills based on color and size. They may even know how many times daily they take the pills.
Here are three tips for helping your senior loved one stay on top of their daily prescription:
Be Actively Involved: Whether it's a family member or a home health aide,it's important to have someone around regularly to ensure your elderly loved is taking their medications as prescribed. Examine the the pillboxes daily to see if some doses have been missed.
Education is Key: Although it can be tedious, allow the elderly person to go through the pillbox filling process with you. Having them do it themselves can be very enlightening. You can determine if they understand the schedule and if they are aware of what pills they are taking and for what reasons.
Simplify the Prescription Filling Routine:
. Try to have medications filled at only one pharmacy if possible. Then, assign one person to be in charge of reconciling what medications are filled on a monthly basis with the medication list.This way, medications that are no longer being prescribed can be eliminated from the list.
Remembering medication is a key part of enjoying your later years. And the best way to do that is to make it an integrated part of your lifestyle.
A professional in-home caregiver can also give medication reminders. At Love Thy Neighbor Home Care Services is a comprehensive home care agency licensed by the Georgia Department of Community Health provides skilled home health aides services to help and monitor medication and ensure your senior takes the medications they need when they need them. Contact us today to see how our compassionate, dedicated caregivers can give the highest standard of care to assure the best possible outcome for your loved one. Call us now at 678-892-9118 and speak with us about how we can meet your needs.