Flu is a mild illness for some people. But for others, including the elderly and those with chronic (long-lasting) health conditions, the flu can be severe and even life-threatening. Getting a flu vaccine every year can help prevent the flu.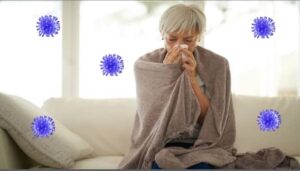 Flu Symptoms include:
• Fever
• Headache
• Fatigue
• Aches and pains
• Cough
• Sore throat
• Runny or stuffy nose
Each year, Americans get more than 1 billion colds, and between 5 and 20 percent of Americans get the flu. The two diseases have some symptoms in common, and viruses cause both. However, they are different conditions, and the flu is more severe. Unlike the flu, colds generally don't cause serious complications, such as pneumonia, or lead to hospitalization.
No vaccine can protect you against the common cold, but vaccines can protect you against the flu. Everyone over the age of 6 months should be vaccinated against the flu each year. Vaccination is the best protection against getting the flu.
Prescription antiviral drugs may be used to treat the flu in people who are very ill or who are at high risk of flu complications. They're not a substitute for getting vaccinated. Vaccination is the first line of defense against the flu; antivirals are the second. If you think you've caught the flu, you may want to check with your healthcare provider to see whether antiviral medicine is appropriate for you. Call promptly. The drugs work best if they're used early in the illness.
With this being said, prevention is better than cure. Home caregivers play a key role in delaying and possibly preventing the flu and can give support, and express empathy and kindness toward the elderly who are going through a difficult time.
Love Thy Neighbor Home Care Services is a comprehensive home care agency licensed by the Georgia Community Health Department. Contact us today to see how our compassionate, dedicated caregivers can guide your loved one in flu. Call us now at 678-892-9118 and speak with us about how we can meet your needs.