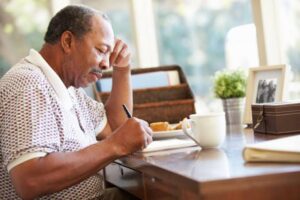 If your elderly loved one used to write more often when he or she was younger, encourage him or her to get into the habit again. People over 65 have much to gain from making writing a part of their daily routine.
Below are a few major advantages:
Enhance Memory, Comprehension and Communication Skills: According to report from Stanford University, writing has critical connections to speaking, which means focusing on better writing skills can also lead to better speaking skills
Reduce Stress: Writing allows your loved one to vent feelings of sadness, anger, and other painful emotions, which makes it possible to feel calmer and more present in the moment.
Boost Self-Confidence: Writing about positive experiences allows your loved one to relive those moments, which triggers the release of dopamine and endorphins that boost mood and self-esteem
Create Self- Discipline: Discipline is like a muscle that becomes stronger with more practice, and the discipline required to make writing a regular habit can spread to other areas of your loved one's life
Writing is one of may ways your loved one can get the daily mental stimulation he or she needs. Love Thy Neighbor Home Care Services remains committed to providing personalized care for your loved one.
Love Thy Neighbor Home Care Services is a comprehensive home care agency licensed by the Georgia Department of Community Health provide in home healthcare services. Contact us today to see how our dedicated caregivers can give the highest standard of care to assure the best possible outcome for your loved one. Call us now at 678-892-9118 and speak with us about how we can meet your needs