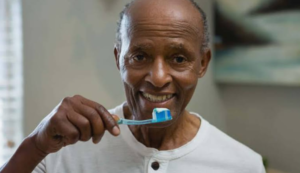 With age, teeth become weaker and there is an increased risk of some oral problems. For this reason, dental care for older adults is a priority to maintain good oral health, which is closely related to general health.
What happens in older adults when proper dental hygiene has not been followed, or if it is neglected during this stage?
The main consequences are the following:
• Causing pain difficulty in eating.
• Dry mouth, affecting speech and proper nutrition.
• Aesthetic problems affecting the self-esteem of the elderly.
• Negatively influence general health, affecting cardiovascular diseases, diabetes, respiratory or gastrointestinal infections.
It is very important to take care of oral hygiene on a daily basis. Medical organizations recommended a number of tips for older adults to protect their mouths easily and effectively.
Love Thy Neighbor Home Care Services remains committed to providing personalized care for your loved one.
Love Thy Neighbor Home Care Services is a comprehensive home care agency licensed by the Georgia Department of Community Health provide direction as to how to manage the total care of your senior loved one. Call us now at 678-892-9118 and speak with us about how we can meet your needs.