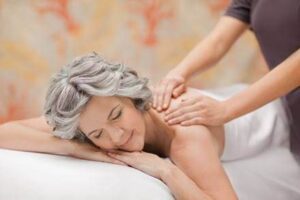 Beyond the obvious aesthetic benefits like relaxation, therapeutic massage has been shown to decrease stress in the body and lessen the negative effects of anxiety, depression and even digestive disorders.
The Mayo Clinic agrees: " Studies of the benefits of massage demonstrate that it is an effective treatment for reducing stress, pain and muscle tension".
Here are Benefits of Massage Therapy for Seniors:
Increases blood flow to limbs: Good circulation can become increasingly difficult as we age, and massage therapy really helps the flow of the blood into the limbs
Improves balance and gait: Falling is consistently listed as one of the top concerns for seniors, due to massage's ability it helps to improve proprioception, or the sense of relative position of body parts.
Softens hard muscles and tissues: Massage helps to soften muscles and tissues by increasing blood flow to the areas and ultimately reducing overall muscle tension
Produce feelings of caring and comfort: Some people enjoy massage because it can produce feelings of caring and connection
Stimulates the nervous system: Massage therapy releases endorphins, hormones and neurotransmitters that are beneficial for the functioning of the nervous system.
With regular massage, seniors can experience an improved quality of life, increased energy levels and feel younger and healthier overall.
Love Thy Neighbor Home Care Services is a comprehensive home care agency licensed by the Georgia Department of Community Health . Contact us today to see how our compassionate, dedicated caregivers can help your loved in massage therapy. Call us now at 678-892-9118 and speak with us about how we can meet your needs.