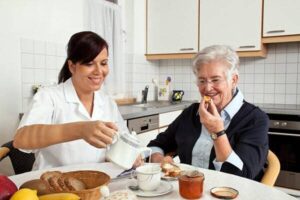 It is difficult to accept that a senior adult in your life is no longer able to perform the same tasks they once could on their own. You may have started noticing small signs that have raised concerns. However, those signs become more frequent and more serious.
Here are the 5 Signs To Get A Caregiver:
1. Piles of Unopened Mail: Most people open their mail everyday. It keeps you on top of appointments and bills, connecting with friends and family members over long distances. If your aging parent has started letting their mail pile up, this should be a red flag that something is wrong
2. Spoiled Food in House: Having expired food in the house can be major health risk to seniors. They may not realize they are consuming spoiled food or may not be able to read the expiration label.
3. Medications Not Being Taken: Forgetting to take medications can be dangerous to the health of your aging parents, especially if they suffer from chronic health conditions
4. Missed Doctors' Appointments: Several missed appointments should raise concern regarding the safety and cognitive health of the senior
5. Unpleasant Body Odor: If your parent or loved one is not properly attending to their personal hygiene and cleanliness, it may be a sign that they need some extra assistance around the home. The aide can help with grooming, dressing and keeping the home tidy.
Getting a caregiver for your loved one can help keep them safer, healthier, and living at home longer. Love Thy Neighbor Home Care Services is a comprehensive home care agency licensed by the Georgia Department of Community Health. Contact us today to see how our compassionate, dedicated caregivers can give the highest standard of care to assure the best possible outcome for your loved one. Call us now at 678-892-9118 and speak with us about how we can meet your needs.