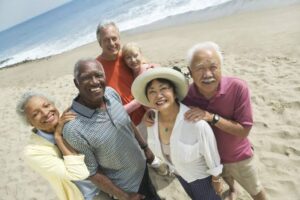 Traveling for seniors is often a bigger challenge than it is for more young and middle-aged adults. That being said, traveling is a great way to stimulate a senior's mind, allowing them to connect with a new community, explore a new environment, and try new things.
Here are 4 Tips for Traveling with Seniors:
Check with the Doctor First- Before planning any trip with a senior, run it by their doctor to ensure it will be possible for them. Ask their doctor if they think the trip is something the senior is physically capable of handling. A doctor can also help you mentally prepare for a senior's special needs throughout a trip and help you understand what to expect
Be Prepared- When traveling with your senior loved one be sure to have a bag of essentials handy at all times. Remember to include an updated medical record and any important legal documents
Choose Your Travel Routes Carefully- The best way to travel with elderly adults is to be sure the route you choose and the plans you make are doable for them
Confirm and Re-Confirm Your Travel Details- When traveling with seniors, get used to confirming your travel plans a few times. Your elderly traveler may not grasp all of the travel details right away and may need a few reminders to be clear on the agenda for the trip.
Traveling with seniors is an amazing way to add to their quality of life and give them a break from their daily routines. You may need some additional assistance when on vacation with your senior loved one. That is when a home health aide can be a godsend.
Love Thy Neighbor Home Care Services is a comprehensive home care agency licensed by the Georgia Department of Community Health that could provide direction on managing the total care of your senior loved one. Contact us today to see how our compassionate and dedicated caregivers can assist your loved one in traveling. Call us now at 678-892-9118 and speak with us about how we can meet your needs