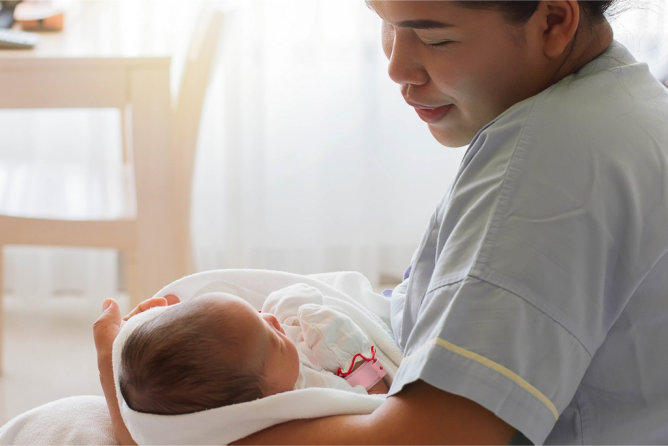 Whether you've had kids before or you're a first-time mom, caring for an infant fresh out of the oven is not easy.
Aside from your anxieties about being able to be a good mother to your little bundle of joy, there will be a lot of people who'll like to impose how you should raise your child.
Don't listen to those. Love Thy Neighbor Home Care Services can assure you that you are doing well and that you'll be a great mom. You also don't have to go through everything alone. We have childcare services available for you.
Here's how home care can help care for you and your child:
Create extra time for you and your baby. Your caregiver can help prep your meals while you comfort or change your baby's dirty nappies. Having a caregiver also means that you can take a well-deserved bubble bath after calming down your fussy bundle of joy.
Allows the mother to heal. You just gave birth to a human being. Your body will still need adequate time to heal. With a caregiver handling Personal Care in Georgia, you will have the luxury of taking it easy.
Help with your other children. It's not easy to raise a cluster of kids alone. Even with a partner around, things can still get chaotic. A caregiver will be able to provide the extra pair of hands and eyes you need to make sure your house stays in one piece.
If you're interested in Home Health Care in Snellville, Georgia, feel free to give us a call. We're always happy to help. Dial 678-892-9118 to set an appointment.