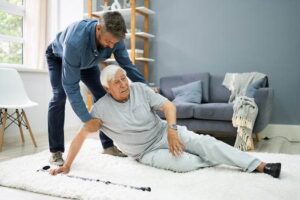 Falls are common but often overlooked, cause of injury. Around 1 in 3 adults over 65 and half of people over 80 will have at least one fall a year. Many falls do not cause injuries. But one out of five falls does cause a severe injury such as a broken bone or a head injury. Research has identified many conditions that contribute to falling. These are called risk factors.
Many risk factors can be changed or modified to help prevent falls. They include:
→ Lower body weakness
→ Vitamin D deficiency
→ Difficulties with walking and balance
→ Use of medicines, such as tranquilizers or antidepressant
→ Vision problems
→ Foot pain or poor footwear
Falls can be prevented. Here are some simple things you can do to keep yourself from falling:
→ Talk to your doctor
→ Do strength and balance exercises
→ Have your eyes checked
→ Make your home safer
Healthcare providers can help reduce a person's risk by reducing the fall risk factors.
Love Thy Neighbor Home Care Services is a comprehensive home care agency licensed by the Georgia Department of Community Health that can help prevent elderly fall. Contact us today to see how our dedicated caregivers provide personalized care for your loved one. Call us now at 678-892-9118 and speak with us about how we can meet your needs.