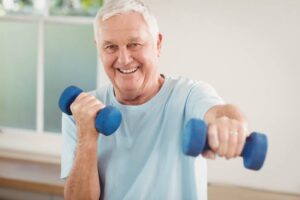 An effective exercise plan has a positive impact on elderly people's strength, flexibility, endurance, and even emotional health. With a little planning, you can help your loved one develop a routine that will keep them healthy and happy.
Exercise is an important part of healthy aging. Research has shown that it has benefits ranging from:
• Improved strength
• Reduced risk of falling
• Improved cognitive function, mood, and sleep habits.
When anyone is starting a new exercise program, It's a good idea to talk to their doctor first, and that's especially true for elderly people.
It can be hard to change habits, and incorporating an exercise routine is no exception. But the results are worth the effort, so encourage your loved one to keep trying.
Here are few tips to make it a little easier:
• No matter your age, it's not too late to improve your health with exercise
• Start slow. 30 minutes of exercise a day is enough to see changes
• Be patient. It may take a while to see results, but consistency is key
• Change things up. Varying workouts keep your routine interesting and effective. New exercises challenge your body and brain in different ways
• Don't overdo it. You'll get more out of moderate, regular exercise than you will by pushing so hard you can't continue
Regular exercise for seniors is essential for maintaining good health. Love Thy Neighbor Home Care Services is a comprehensive home care agency licensed by the Georgia Department of Community Health that can help provide effective exercise plans for your loved one. Contact us today to see the highest standard of care to assure the best possible outcome. Call us now at 678-892-9118 and speak with us about how we can meet your needs.